January 9, 2023 – I (Maureen) see a Great Flame that I have come to know as the Heart of God the Father. The Father says:
"Children, make this the year in which you come closer to Me – both in times of sorrow and of joy. I desire so much an ever-deepening relationship with each of you. Seek My Advice through prayer and sacrifice. You will feel the direction I am pulling you. In awe and wonder, know that I am with you in every present moment. Your salvation is in the present moment."

"Today, I invite one and all to return to the Field of Our United Hearts* on the Feast of Divine Mercy**. There, each one will receive the Triple Blessing***."

"Come to Me that day in a state of grace."
+ Scripture verses asked to be read by God the Father.
Read Galatians 6:7-10+ Do not be deceived; God is not mocked, for whatever a man sows, that he will also reap. For he who sows to his own flesh will from the flesh reap corruption; but he who sows to the Spirit will from the Spirit reap eternal life. And let us not grow weary in well-doing, for in due season we shall reap, if we do not lose heart. So then, as we have opportunity, let us do good to all men, and especially to those who are of the household of faith.
* The Field of the United Hearts at the apparition site of Maranatha Spring and Shrine located at 37137 Butternut Ridge Rd in North Ridgeville, Ohio 44039, USA.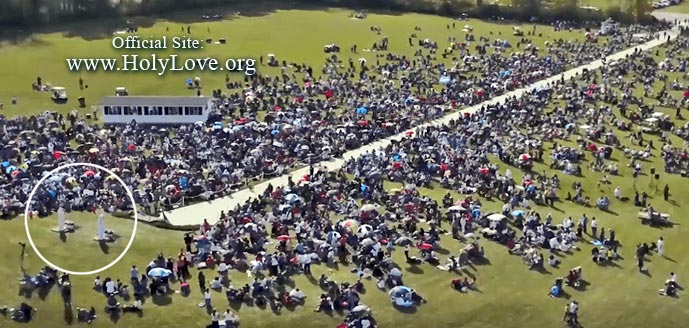 ** Sunday, April 16, 2023 – Feast of Divine Mercy during the 3pm Ecumenical Prayer Service.
*** For information on the Triple Blessing (Blessing of Light, Patriarchal Blessing and Apocalyptic Blessing), please see here