Once again, I (Maureen) see a Great Flame that I have come to know as the Heart of God the Father. He says: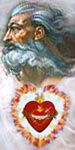 "While these Messages* I give to the world are not flamboyant revealing hidden agendas and nefarious plots hidden in hearts, they are what the world needs to hear now. Do not trust a message that offers predictions concerning specific dates. These are of human origin. This is Satan's way of distracting you."
* The Messages of Holy and Divine Love given by Heaven to the American Visionary, Maureen Sweeney-Kyle.
I was at Adoration at a neighbourhood Church and Our Lady was suddenly just standing to the side of the Monstrance – She never puts Her back to Jesus in the Blessed Sacrament. She had a large beaded rosary in Her hands and I thought, 'Am I the only one seeing Her?
Jesus comes. He takes a diamond out of the wound in His Side. He says: "Child, this jewel which is covered with the Blood and Water of your Jesus, born Incarnate, is this Mission itself. Though many may challenge it, compete with it and disbelieve in it, I will uphold it through the Power and ...
St. Thérèse of Lisieux, St. Pio of Pietrelcina, and St. Michael the Archangel are the Patrons of Holy Love Ministries.