Feast of the United Hearts
Once again, I (Maureen) see a Great Flame that I have come to know as the Heart of God the Father. He says:
"Children, today, as we honor all fathers, I invite fathers to appreciate every present moment as just that – a present from Me. Teach your children to appreciate the particular graces sent to them in each moment – graces to help them to guide their own children to Heaven. Do not be discouraged if through free will they choose an errant path. Be a constant in their lives that they can return to for strong Christian guidance. Be a strong head of the family, always an example of St. Joseph to those around you."

"Throughout life, teach your children to value devotion to the United Hearts – a strong safeguard against any evil influence. Teach them the strength of the influence of the intercession of the United Hearts. Each soul can merit from the graces poured out from a sincere devotion to the United Hearts. Remember, if you display an image of the United Hearts* anywhere, I will place My Blessing upon that place."
*The image of the United Hearts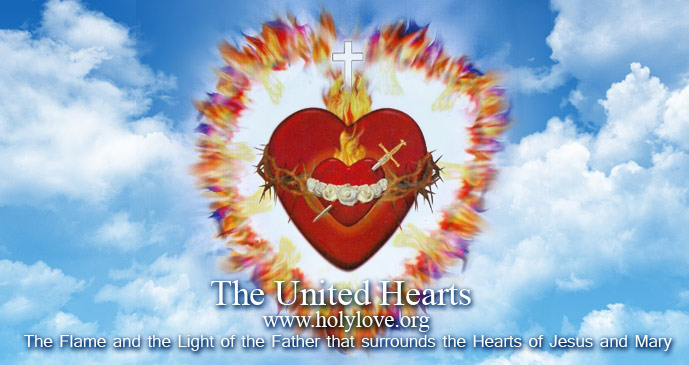 Read Galatians 1:3-5+
Grace to you and peace from God the Father and our Lord Jesus Christ, who gave himself for our sins to deliver us from the present evil age, according to the will of our God and Father; to whom be the glory for ever and ever. Amen.
I was at Adoration at a neighbourhood Church and Our Lady was suddenly just standing to the side of the Monstrance – She never puts Her back to Jesus in the Blessed Sacrament. She had a large beaded rosary in Her hands and I thought, 'Am I the only one seeing Her?
Jesus comes. He takes a diamond out of the wound in His Side. He says: "Child, this jewel which is covered with the Blood and Water of your Jesus, born Incarnate, is this Mission itself. Though many may challenge it, compete with it and disbelieve in it, I will uphold it through the Power and ...
St. Thérèse of Lisieux, St. Pio of Pietrelcina, and St. Michael the Archangel are the Patrons of Holy Love Ministries.