Once again, I (Maureen) see a Great Flame that I have come to know as the Heart of God the Father. He says: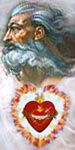 "Children, depend upon the Truths of the Gospels. Do not stray. Violence is not founded in these Truths. Those who support violence have lost sight of the Truth. Violence comes in word and deed. Be gentle – even in your opposition towards others. When My Son* taught His controversial ideas on earth, He did so with gentleness. This type of attitude is more persuasive than any aggressive behavior. Gentleness encourages trust."
Read Psalm 2:10-11+
– Now therefore, O kings, be wise; be warned, O rulers of the earth. Serve the LORD with fear, with trembling.
* Jesus Christ.
I was at Adoration at a neighbourhood Church and Our Lady was suddenly just standing to the side of the Monstrance – She never puts Her back to Jesus in the Blessed Sacrament. She had a large beaded rosary in Her hands and I thought, 'Am I the only one seeing Her?
Jesus comes. He takes a diamond out of the wound in His Side. He says: "Child, this jewel which is covered with the Blood and Water of your Jesus, born Incarnate, is this Mission itself. Though many may challenge it, compete with it and disbelieve in it, I will uphold it through the Power and ...
St. Thérèse of Lisieux, St. Pio of Pietrelcina, and St. Michael the Archangel are the Patrons of Holy Love Ministries.